CR pumps are designed for a variety of applications ranging from the pumping of potable water to the pumping of chemicals. The pumps are therefore suitable for a wide diversity of pumping systems where the performance and material of the pump meet specific demands. The CR pumps consist of two main components: the motor and the pump unit. The CR pump motor is a motor designed to EN standards. The pump unit consists of optimised hydraulics, various types of connections, a sleeve, a pump head and various other parts. CR pumps are available in various material versions according to the pumped liquid.
Performance Range
Application
Water supply

Filtration and transfer at waterworks
Distribution from waterworks
Pressure boosting in mains
Pressure-boosting in high-rise buildings, hotels, etc.
Pressure-boosting for industrial water supply

Industry – Pressure boosting

Process-water systems
Washing and cleaning systems
Vehicle-washing tunnels
Fire-fighting systems

Industry – Liquid transfer

Cooling and air-conditioning systems (refrigerants)
Boiler-feed and condensate systems
Machine tools (cooling lubricants)
Aquafarming*

Industry – Special transfer duties

Oils and alcohols
Glycol and coolants

Water treatment
Irrigation

Field irrigation (flooding)
Sprinkler irrigation
Drip-feed irrigation
Pump
The CR and CRE pumps are non-self-priming, vertical multistage centrifugal pumps. The pumps are available with a standard motor (CR pumps) or a frequency-controlled motor (CRE pumps). The pump consists of a base and a pump head. The chamber stack and the sleeve are secured between the pump head and the base by means of staybolts. The base has suction and discharge ports on the same level (in line). All pumps are fitted with a maintenance-free mechanical shaft seal of the cartridge type.
Motor
CR pump is fitted with a totally enclosed, fan-cooled, 2-pole Grundfos standard motor with principal dimensions to EN standards.
Electrical tolerances according to EN 60034. CR pump is fitted with three-phase MG motors as standard. CR pump from 0.37 to 2.2 kW are also available with single-phase motors (1 x 220-230/240 V). See WinCAPS or WebCAPS.
Terminal Box Position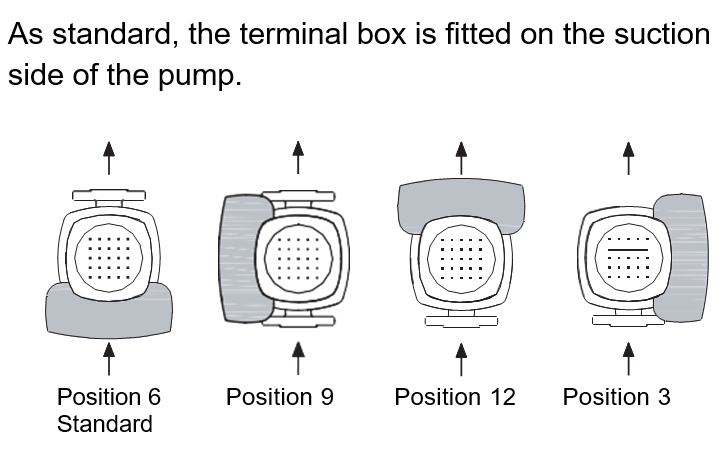 Ambient Temperature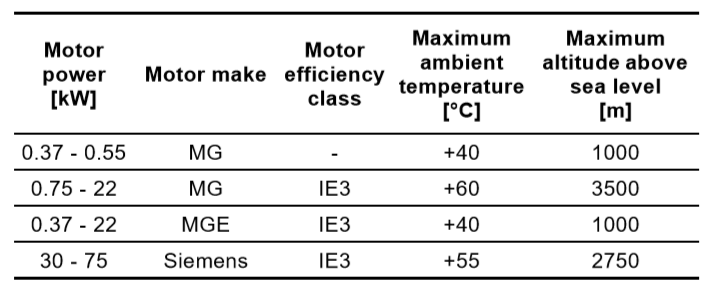 Viscosity
The pumping of liquids with densities or kinematic viscosities higher than those of water will cause a considerable pressure drop, a drop in the hydraulic performance and a rise in the power consumption.
In such situations, the pump should be fitted with a larger motor. If in doubt, contact GLS.
More information click "Contact Us"